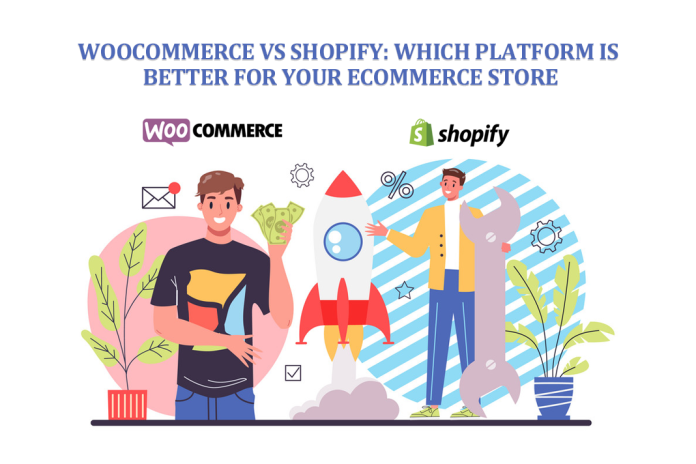 You've decided to redesign your current website or launch an online store to sell goods and services.
The question of WooCommerce vs Shopify may arise when you conduct web research to discover a dedicated eCommerce platform. What are the differences between the different services, and which one is best for selling things online?
These are good questions since we're talking about eCommerce systems with good reputations among users, and it can take time to choose between them.
Data shows that WooCommerce has a market share of 12.9% of online sales and is used on 8.7% of sites worldwide.
On the other hand, Shopify claims lower but still intriguing stats, with a distribution of 4.1% of global sites and a market share of 6.1%.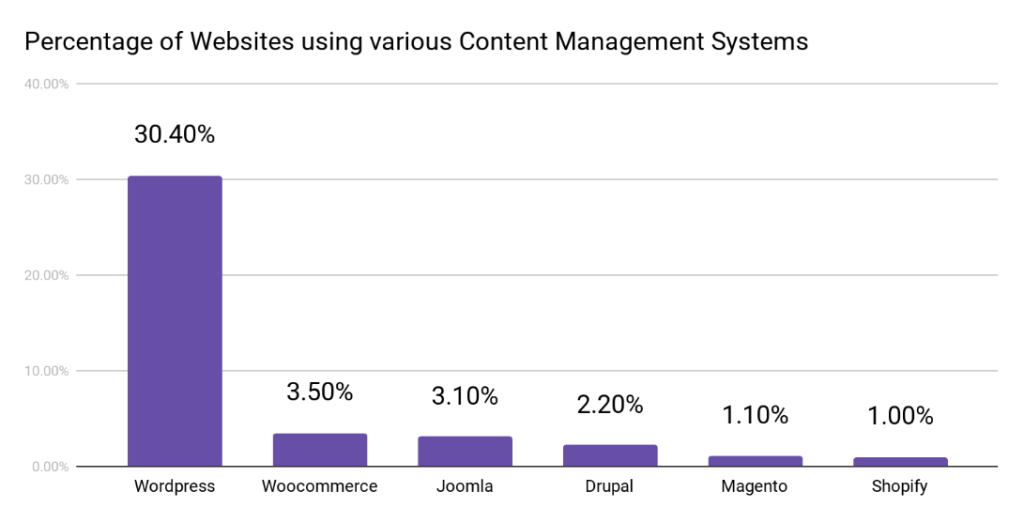 What's Shopify?
Shopify is a Canadian corporation established in 2006, unlike WooCommerce, whose identity is predicated on being an open-source service. In its sixteen years of business, Shopify has hosted about two million shops worldwide and made close to $300 billion in sales.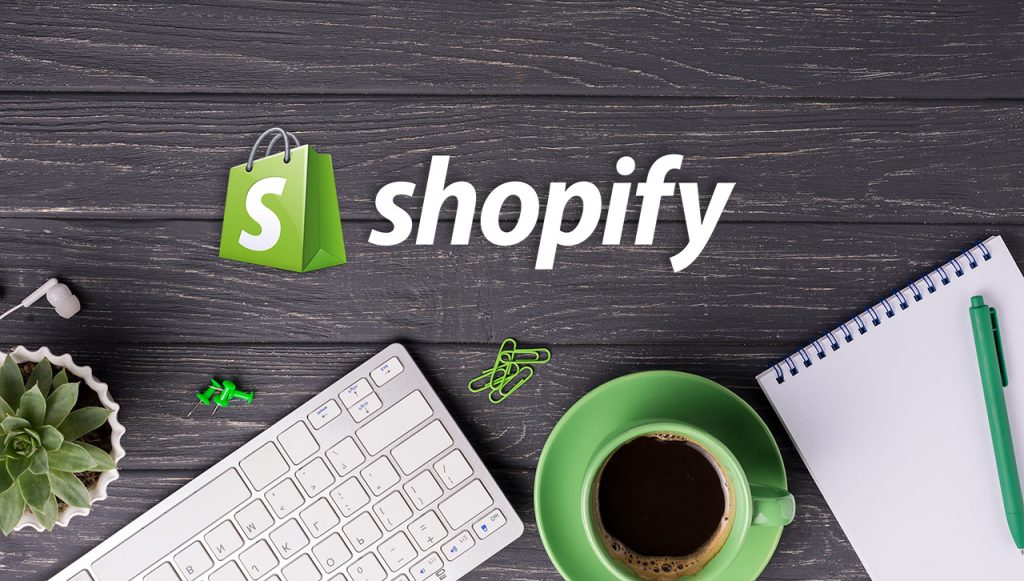 These well-known eCommerce platforms are known for their ease of use, but Shopify makes it even simpler to set up an online store without requiring a lot of customization.
Since these processes are included in the installation phase, the user won't need to look for a hosting company or buy a domain. It only takes a few minutes to create a simple eCommerce store.
To fully grasp the benefits and drawbacks of this decision, it is necessary to examine the WooCommerce vs Shopify discussion.
What's the difference between Shopify and WooCommerce?
Considering what was stated earlier, the fundamental characteristics of the eCommerce platform are connected to the numerous distinctions between the two services.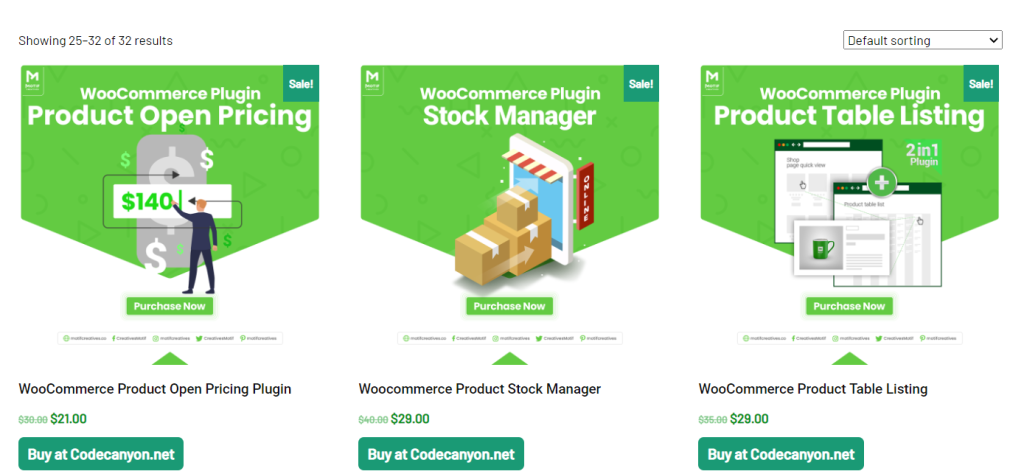 WooCommerce is an open-source product that depends on a sizable community for steady growth and free access (there is no need to pay to use it).
This openness has ensured the creation of tens of thousands of plugins and themes and the ability to customize every platform feature. These make it easy to design a website precisely how you want it, from a straightforward eCommerce website to marketplaces, booking and rental services, and more. Of course, in this situation, the person in charge of the website's customizations will need a working knowledge of WordPress.
On the other hand, Shopify was founded as SaaS (software as a service), and its foundation is built on developing a quick and straightforward service for all merchants. Compared to WooCommerce, fewer customization options are available, but they are still possible.
Shopify allows everything to be done directly on the site of the company, whereas WooCommerce requires the seller to purchase a hosting plan and a domain name. One of its strengths (but also one of its weaknesses, as we will see in a moment) is the ease with which it is initially set up, which is also one of its weaknesses.
But this has two drawbacks: first, it makes other parts of the website less effective (many sellers use the Shopify store as a sub-domain to incorporate it into a portal where there is a blog), and second, it might increase administrative costs.
Finally, the Shopify POS system (for an extra €77/month per location) enables local sales administration in your brick-and-mortar store.
As you can see in the next point, choosing between the two services is difficult because the seller's needs come first, although there are significant distinctions between them.
WooCommerce vs Shopify: Advantages and disadvantages
The most straightforward strategy to choose the finest eCommerce platform is to assess the requirements of your online business and compare how each solution will address those requirements. For more understanding, consider a watch. For a diver, the best look is one with solid resistance to water pressure, but we must use a different criterion to select the best lookout for someone else.
Let's look at the advantages and disadvantages of both WooCommerce and Shopify and see where the needle ends up.
Which platform is the most affordable?
Let's begin by discussing one of the most fundamentally crucial aspects: the financial commitment you will have to make to set up your internet business. It is essential to have a distinct mental picture of the situation because, ultimately, your profit will be determined by the difference between the income and the expenses generated by your website.
Typically, WooCommerce is the least expensive option regarding associated expenditures. Not only are WordPress and WooCommerce both free, but you also have the choice of selecting the hosting package that best fits your budget.
Extra plugins that give your site unique features and are often tied to an annual fee are another cost that comes with this platform.
On the other hand, Shopify lets you build an eCommerce store on its website. You can choose from three different monthly subscription plans based on your needs.
The "Basic" Shopify solution is the least expensive of the three options offered by Shopify. It requires an investment of 21 euros per month and is recommended for beginning online businesses anticipating a low sales volume. Shopify, the intermediate solution, costs an investment of 59 euros per month. In comparison, the "Advanced" solution costs 289 euros per month (there is also Shopify Plus, which is meant for large businesses and has a cost that begins at 2,000 euros per month).
It is also vital to note sales commissions significantly impact final profitability. Shopify charges 1.9% on all European credit card payments and 3.6% on all international card payments.
Shopify's "Advanced" plan reduces these rates to 1.6% and 3.2%, respectively.
A fixed fee of 0.25€ per commission must be added to each of the abovementioned percentages, significantly influencing the sale of inexpensive goods.
Even though Shopify and WooCommerce have premium plugins and apps, Shopify's average cost is higher.
In the end, a WooCommerce store is much cheaper than a Shopify store, even though it takes more time and work to build the site.
Shopify vs WooCommerce in terms of how they work
The number of functions built into each platform is one of the most significant differences. As mentioned above, Shopify gives the seller a store set up with specific vital features for making more sales.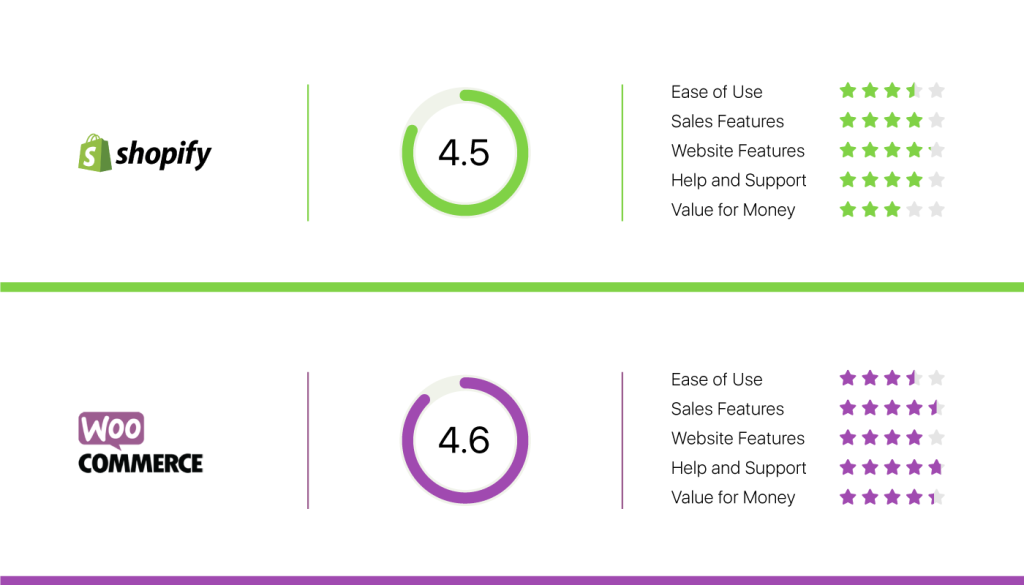 You may email consumers to remind them of their incomplete purchases and the option to retrieve abandoned shopping carts and save the items inside them.
WooCommerce does not, by default, have this feature. Still, you can add it by installing a particular plugin like woocommerce pre order (many other plugins allow you to add essential functions, such as a product video or more control over your conversion).
However, a benefit of Shopify sites is the automated scalability of the service, which is an inherent feature of Shopify itself. It allows businesses to be established on this platform much faster than shops built on WooCommerce.
We're talking about milliseconds here, not seconds. A Quanta study found that, on average, a Shopify store loads in half the time it takes a WooCommerce site to load.
One of the most significant differences between these two platforms is the number of functions they include. As mentioned above, Shopify gives the seller a store set up with some essential features for better sales conversion.
So this means that if you choose an excellent hosting service, you can reach the same speed on WooCommerce sites as you can with Shopify.
WooCommerce vs Shopify Design
The design of your website is how it looks on the outside. On both platforms, this is determined by the seller's choice of theme.
Not only is the appearance of your website a reflection of your taste, but it also plays a role in the number of conversions that you achieve with the assistance of your clients. In point of fact, BlueCorona reported in 2018 that 38 per cent of consumers would stop navigating the website and leave it altogether if they do not find it aesthetically satisfying.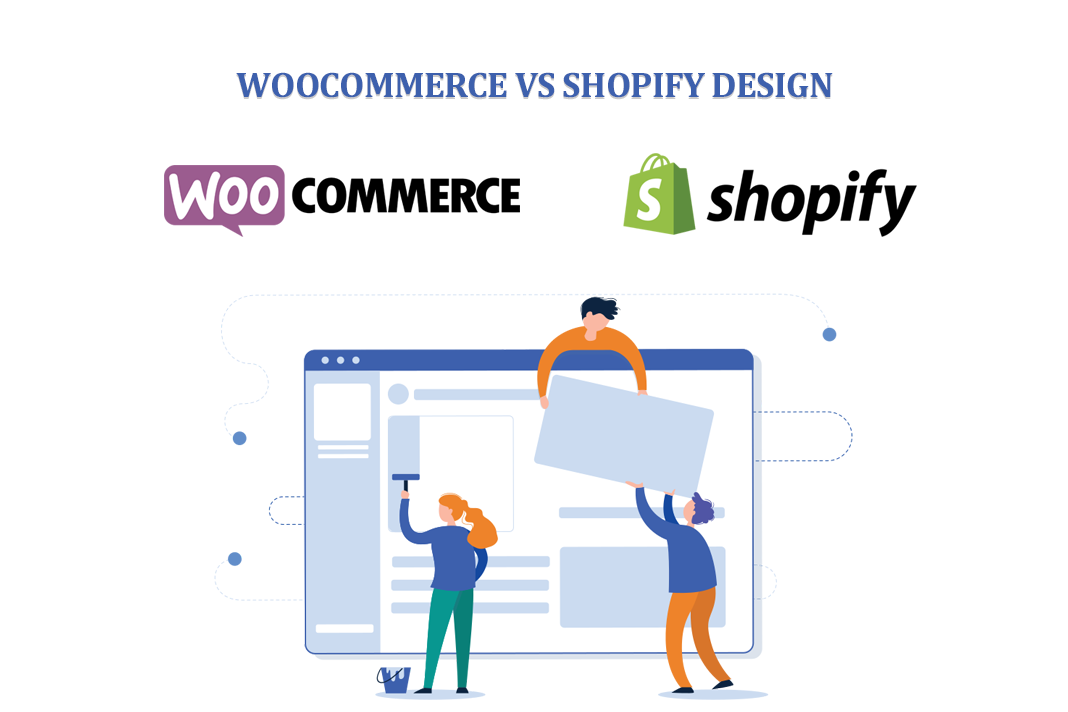 The outcome of the comparison between Shopify and WooCommerce is challenging to determine because, in both situations, it depends on how much time you want to spend setting up your online business. WooCommerce, like Shopify, has a wide range of free and premium themes that may be modified in code.
In both instances, thousands of free and paid themes are available on the Internet, so what is the difference?
In line with the goal of the service, which is to make it easy and quick to use, the Shopify themes sold in the platform's store are usually more helpful when they are first bought.
On the other hand, WooCommerce themes can be changed more, and it's not unusual for premium themes to need custom work to make them work better.
Once again, your ultimate decision should be based on the purpose of your site.
The application of Shopify vs WooCommerce
The time has come to deepen our analysis after touching on this aspect. Frequently, the choice between Shopify and WooCommerce comes down to how the seller intends to use them.
A basic Shopify plan might be your solution if you need to quickly and easily launch an online store and offer your products there.
WooCommerce, on the other hand, lets you change everything about your shop so you can make it work better for your business.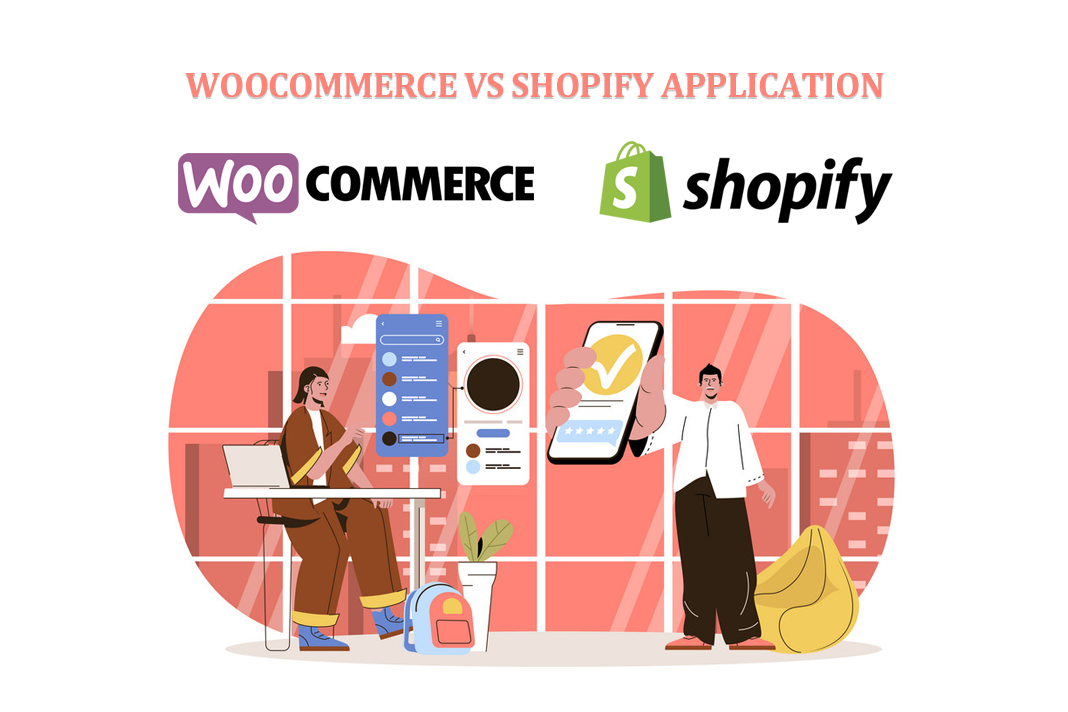 Would you like to offer your clients some woocommerce plugins? With WooCommerce plugins, you can give your customers exclusive services. Want to launch an online store for your neighbourhood business similar to Etsy or eBay? Your eCommerce store can have many customers and products so by allowing a single view to add, remove, and update products in a cart in a popup, thanks to WooCommerce Popup Cart plugin which manages all in one window and enhance user accessibility and experience.
It's also critical to think about your long-term objectives. WooCommerce, for example, necessitates a significant initial time investment in exchange for a higher return and future functionality than Shopify, which frequently scares away sellers due to the time commitment required from each sale.
Consider the site's intended use as well. If the online store is only a tiny portion of your portal, WooCommerce might be the best option. You can build any website with a blog to help your portal's indexation on WordPress, the platform this plugin runs on.
Shopify and WooCommerce: Which One Has Better Support?
Shopify is the winner when it comes to customer service, but WooCommerce is the clear winner when it comes to price.
After all, Shopify provides a private service responsible for producing your website and hosting it on its servers.
This option is undeniably important for individuals who construct their online store, as any errors or misunderstandings on the site can result in financial losses and damage the store's reputation.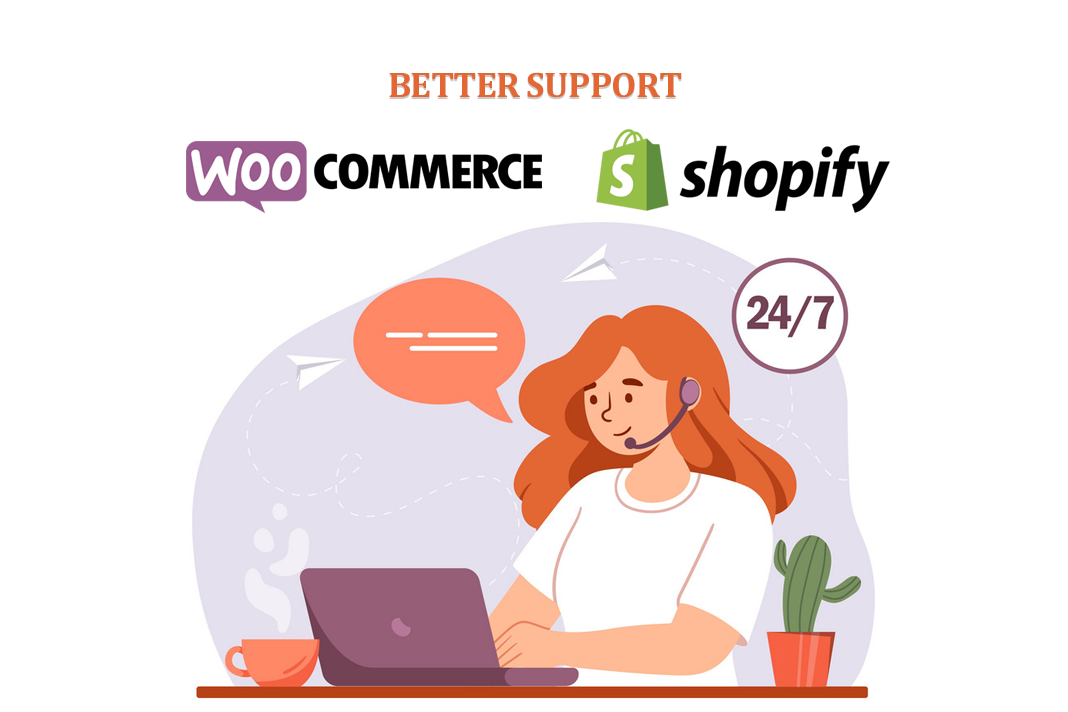 WooCommerce stores are a concern. Can I ask for assistance on the platform? Support is available in this instance through various channels.
Given that it is free, WooCommerce allows users to connect with a sizable community of people who share the same philanthropic values. You can solve any problem by posting in the relevant support forum.
Technical problems that need help right away are rare on both platforms, but in this case, Shopify's community can solve the problem faster than WooCommerce.
If, on the other hand, the issue is related to a previously purchased plugin, you can expect direct support from the developers to resolve it quickly.
Safety of WooCommerce vs Shopify's Platform
One of the most crucial topics online is security. Ensure you have the best protection when using your credit card to purchase and browse websites.
Which eCommerce platform is the best in this regard? Low-level security can result in risks for both sellers and buyers.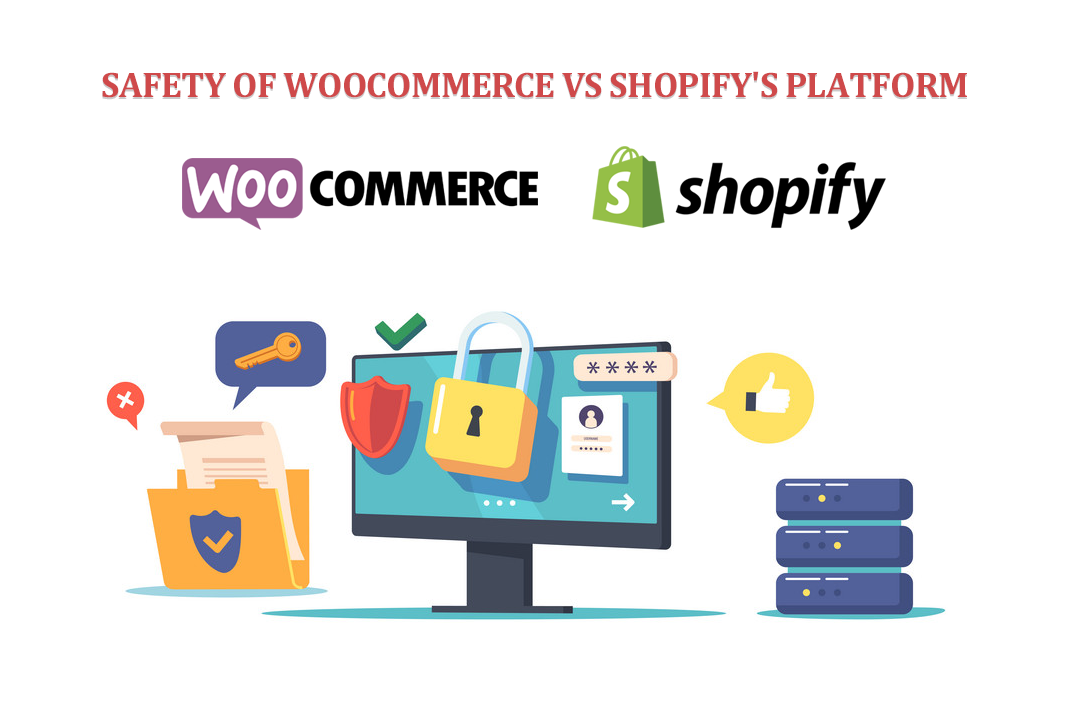 Let's start by saying that human error poses the biggest threat to a site's security in most cases. Being aware of inappropriate tools and activities can significantly lower this risk.
Shopify makes security management easier because it is an internal platform service that offers the SSL certificate and the PCI-DSS standard.
These can be used (and should be used) in conjunction with WooCommerce, but the site owner must be involved.
Additionally, there needs to be more understanding that WordPress is a platform that is unsafe and more vulnerable to online attacks. However, PatchStark reports that only 0.58% of security flaws are directly related to WordPress, so this is only sometimes the case.
Most of the time, shoddy plugins or themes that compromise the platform's security and give store owners less control are to blame for these breaches.
Because of this, we recommend using themes and plugins that have a lot of positive reviews, are updated often (29% of the vulnerable ones need to be updated more), and are made by a reputable company.
As a result, Shopify is not necessarily safer than WooCommerce; it all depends on the activities done by store owners to ensure the site's correct operation.
Comparison of WooCommerce and Shopify's payment methods
Regarding payment methods, Shopify's commission percentage continues to be the primary distinction between the two platforms.
In most circumstances, especially if you manage a large number of products or sell low-cost digital products (digital products review), your business will be profoundly influenced by the commission levied on your shop's prices.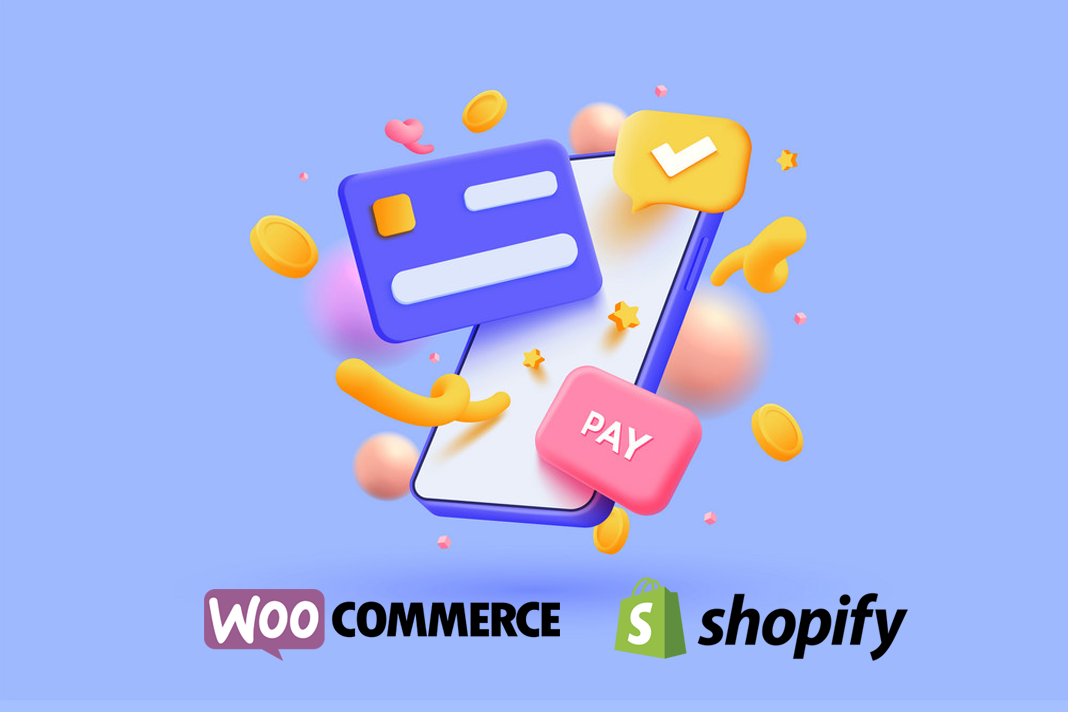 If you compare Shopify and WooCommerce directly in terms of their payment methods, you'll find that both have the most common ones, like PayPal and credit and debit cards.
The main difference is in how the store handles payments. WooCommerce requires specific payment plugins, like WooCommerce Stripe for credit cards, while Shopify has a basic system that, for a fee, works with most of the most popular payment methods.
In this case, WooCommerce is the best choice, especially if your online store will get a lot of orders.
WooCommerce vs Shopify: Usability
Even though we keep comparing one platform to another, Shopify comes out on top in this case.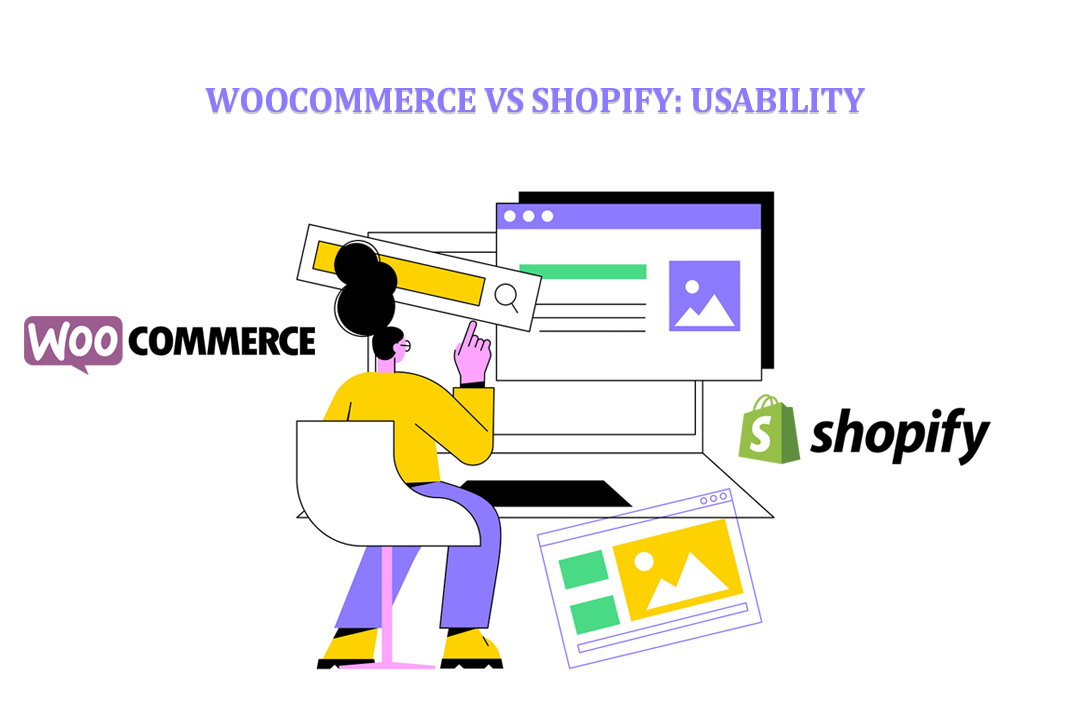 After all, we are discussing a service that prides itself on its configuration simplicity. WooCommerce, on the other hand, requires a more excellent investment of time and effort.
Of course, this doesn't mean that WooCommerce is hard to use. On the contrary, WordPress and WooCommerce are easy to use and get easier with each new release.
We're talking about a service for a customer on the one hand and a personal project that takes more work but has more potential on the other.
Inventories in WooCommerce vs Shopify
Any store, whether real or online, must have effective inventory management. Selling an item or service that is no longer offered puts your business at risk for refunds and harms your brand's reputation.
Both platforms make it easy to manage your inventory, so you can change the number of products you have at any time.
Additionally, using specialized apps on WooCommerce and Spotify can further enhance this administration. On the former, Stocky can be used to simplify and improve inventory control.
Similarly, MotifCreatives offers its WooCommerce stock manager plugin, which lets you synchronize your catalog across all points of sale so that you always have control over your supply.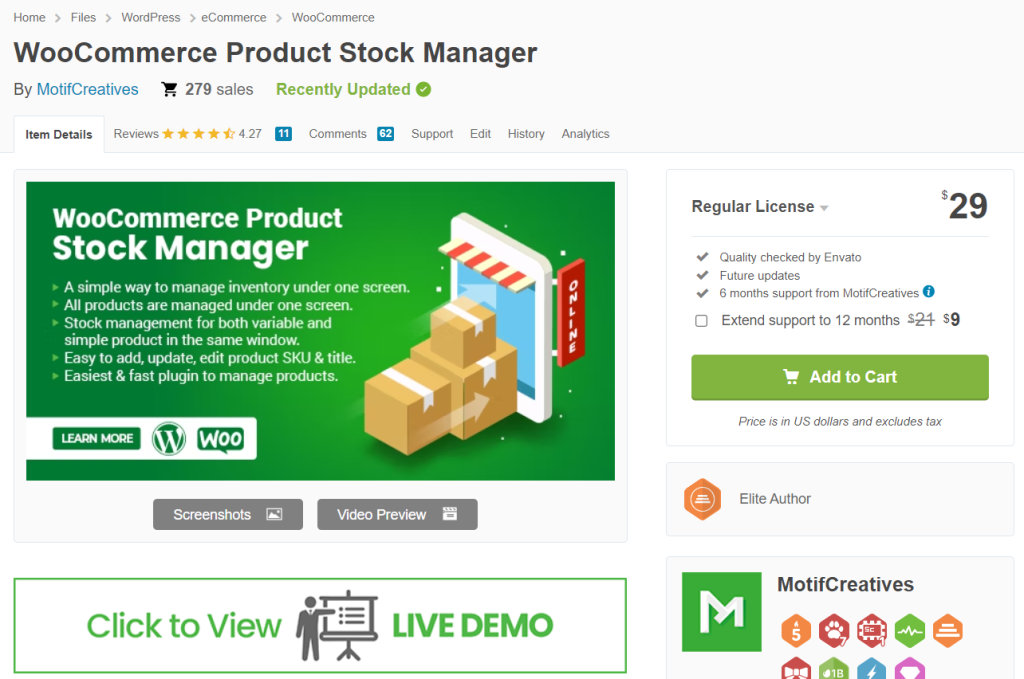 Which is optimal for SEO?
SEO is of utmost significance for indexing your portal in web searches. SEO is a well-known acronym that stands for "Search Engine Optimization." With SEO, you can get your website to appear near the top of a Google search.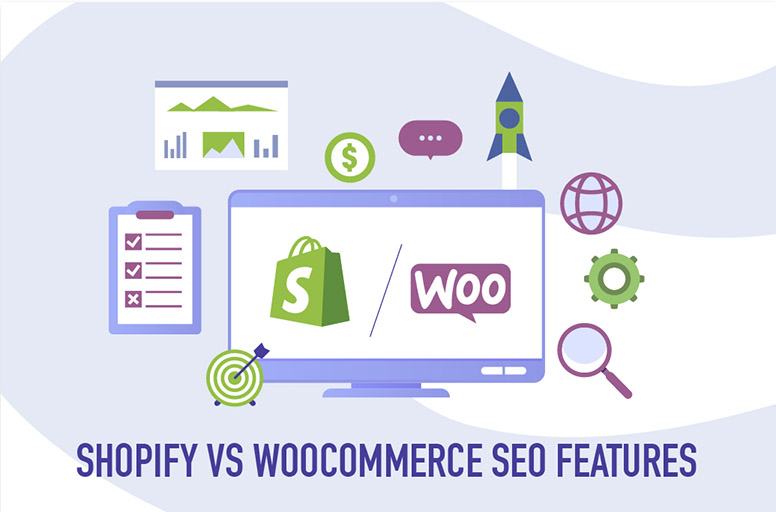 Both WooCommerce and Shopify include SEO management capabilities. Still, WooCommerce has additional plugins and tips that can make a difference, especially for online retailers that wish to compete with the most prominent firms. You can get SEO services from learn SEO service. You can learn how to make money online. How to get local SEO services and without investment you can learn SEO free.
Is WooCommerce superior to Shopify?
Everyone considering starting an online store asks themselves this question, and the best way to find the answer is to consider your unique demands as a vendor.
But, as is clear from this comparison post, WooCommerce and Shopify suit various market needs, so it is crucial for store owners to know which camp they are in and what they want from their online store.
Why is WooCommerce better than Shopify?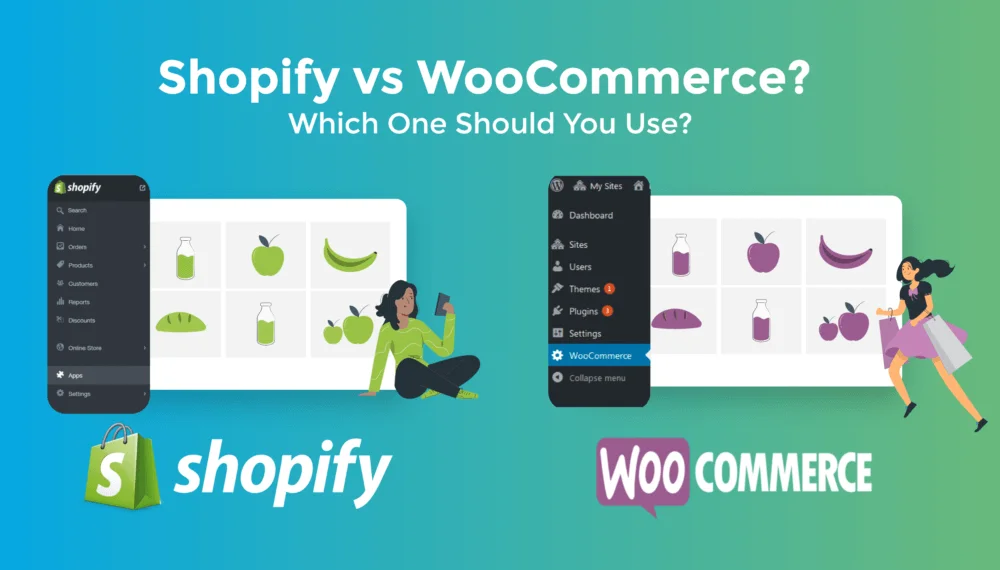 WooCommerce holds a more significant portion of the market, even though the decision depends on the seller's needs. What is the cause of this, though?
Due to WooCommerce's flexibility, many store owners prefer it to Shopify. Unlike Shopify, which frequently has restrictions, an eCommerce business developed on this platform can become a commercial reality.
Also, many sellers have a clear idea of what they want their store to be like, and WooCommerce's flexibility makes it easier to reach some goals.
Last but not least, the price of the service, both in terms of the regular payment and the ongoing proportion of revenue lost to commissions, must be considered. Thus, many store owners chose WooCommerce despite knowing it would take more time (especially in the first phase of creating the store).