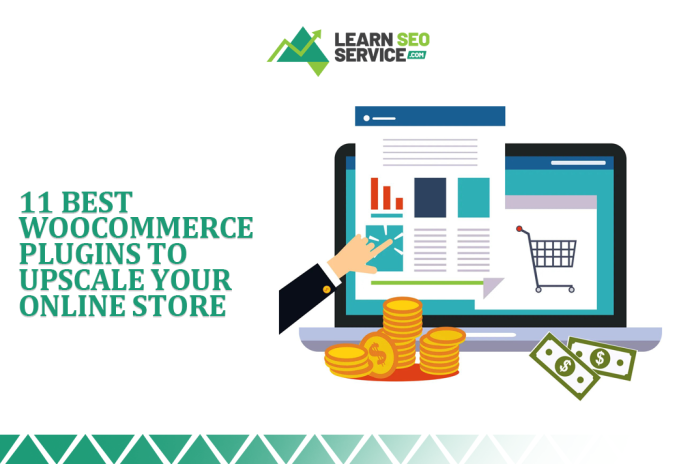 With the rising growth of e-commerce businesses, more and more shop owners are shifting to e-commerce these days. WooCommerce is one of the most popular e-commerce platforms that allow you to create your e-commerce store. As more and more businesses come online, your competitor list will go on and on.
Just like a brick-and-mortar store, your WooCommerce store also needs proper maintenance and updates. We know that WooCommerce offers everything you need to function for an e-commerce business. But with the rise of competition, 'basics' won't be enough.
In this article, we have made a list of the 11 best WooCommerce plugins you need to upscale your online store. Some plugins on this list may require a premium subscription to avail of all the features.
Without any further ado, let's dive in.
1. WooCommerce Best Seller
Highlighting the top-selling products on your WooCommerce store with best-seller labels can be helpful for your customers to find out the best-selling products. WebToffee's WooCommerce best seller plugin helps you show best sellers on your WooCommerce store.
You can add a best-seller label to your top-selling products. The plugin makes it easy for your customers to find out what's popular in your store using best-seller sliders. You can choose best sellers based on the total sales count or sales for a particular period.
Add multiple sliders on the product pages for different categories and customize the slider title and appearance. You can display best-seller ranking positions on product pages for different categories.
The plugin adds a separate best-seller section on your WooCommerce store that displays all your best-selling products. Your customers can easily find out all the best-selling products in one place.
You can also upload a custom best-seller seal to display on the product page. The plugin also allows you to exclude out-of-stock products from being displayed as best sellers.
Main features:
Creates a best-seller page
Add best-seller labels
Upload custom best-seller seals
Creates sliders for best sellers
Displays product rankings based on sales
Get the WooCommerce Best Seller plugin.
2. Import Export Suite for WooCommerce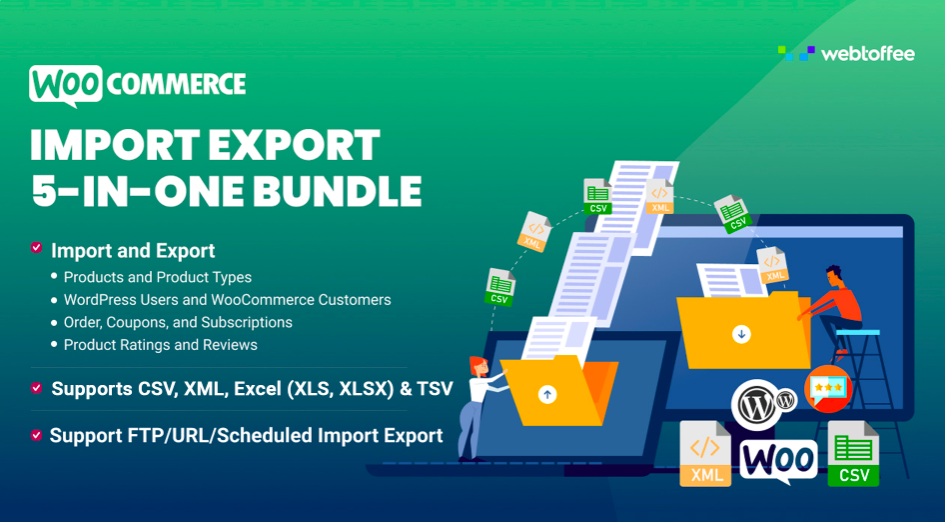 Ever needed to migrate WooCommerce store data from one store to another? The next time when you have a requirement, this import-export suite will come in handy. Importing or exporting WooCommerce store data can be hectic for store owners, this plugin comes as a suite that caters to all your import-export needs for your WooCommerce store.
The plugin comes as a bundled package of import-export for WooCommerce products, orders, coupons, customers, and more. This is one of the most advanced import-export plugins available for WordPress websites.
You can import and export WooCommerce data easily with multiple file formats support. It supports CSV, XML, Excel, and TSV. The advanced filtering options within the plugin help you perform custom import or export actions on your WooCommerce store. You can also include product images and other related fields while importing or exporting.
Even though the plugin offers advanced features, the AJAX UI makes it easier for beginners. You can manage all the import-export functionalities on your own. You can schedule the import-export process for your WooCommerce store using multiple FTP profiles and scheduling options.
Main features:
Import and export WooCommerce products, orders, coupons, customers, and more
Advanced filtering options
Support for multiple file formats
Scheduling options
Get the WooCommerce Import Export Suite.
3. WP Ultimate CSV Importer

The plugin is well capable of importing and exporting data to and from WordPress & WooCommerce websites. It supports almost all types of WordPress data, including posts, pages, custom post types, comments, reviews, users, and WooCommerce (Products, Orders, Coupons).
There are three different add-on plugins available to extend the plugin capabilities and get the complete suite of features. They are 
Import WooCommerce Add-on

: The add-on plugin allows importing WooCommerce data, such as products, orders, and customers.

Import Users Addon

is useful for quickly importing new users from offline sources like excel. Or for transferring user data from another website/instance.

WP Ultimate Exporter is another add-on

that gives us export capability in WordPress. And it helps to export various types of data, including posts, pages, custom post types, users, Products, Orders, Refunds, and Coupons. The plugin can filter out the data required to export in formats like CSV, XML, and JSON.
Installing all three plugins as a combo suite works well to manage your WordPress and WooCommerce data on the fly. The noted advanced features of this plugin are
Multiple file formats:

the plugin supports various file formats, including CSV, XML, or JSON, and allows import from a variety of sources.

Custom field mapping

: Easy to map custom fields to their corresponding attributes data using drag and drop or pick list method. This makes sure that the source data is imported correctly in a well-formatted and organized way.

Scheduled imports

: Advanced scheduler helps with periodical and regular imports. So they can be automated to update the websites by linking with dynamic data sources at a required time.

Custom post type support

: The plugin supports the import and export of custom post types created by CPT UI, Pods, Toolset, JetEngine, and CustomPress. 

Media handling

: The plugin can handle the import and export of media files, such as images and videos, more than any other plugin known so far. This is useful for transferring your content along with media between websites or for creating easy-to-edit backups.
Overall, the WP Ultimate CSV Importer plugin with its three Add-Ons becomes a powerful tool for importing and exporting data to and from WordPress websites, including WooCommerce data. The range of features available makes it easy to transfer data and keep websites up-to-date with the latest information.
4. OptinMonster

When it comes to e-commerce marketing there is nothing like popups that grabs the attention of the customer. OptinMonster is one of the most popular popup builder plugins available for WordPress websites. The plugin comes as a marketing toolkit with a bunch of marketing tools that you may require to increase your store conversions.
Using this plugin, you can create your own marketing strategy for your e-commerce store. The plugin allows you to create beautiful popup campaigns, email subscription forms, and different popups on your store site. You can create beautiful interactive popups using this plugin. It helps you turn your leaving site visitors into returning customers.
The plugin offers mobile-friendly popups, that look great across all devices. The exit intent popups will help you keep your abandoning customers from leaving. It has advanced page targeting and behavior-based personalization features that can help you create custom popups for your customers.
You can show popups based on users' location or show custom popups for specific pages, and more. The plugin is also compatible and can be easily integrated with major marketing plugins. It is also SEO-friendly and won't affect your website's loading speed.
Main features:
Create different popups
Email subscription forms
Exit intent popups
Page targeting and personalization
Compatible with other marketing plugins
Download the OptinMonster plugin for free.
5. Jetpack

This is no doubt a must-have plugin for every WordPress website. Running your own website or managing your e-commerce business? What might be the case, you need this plugin for sure. Jetpack is a suite that comes with essential features for WordPress websites. The plugin is developed by Automattic, the same developer as WordPress.
The plugin comes with different tools for various purposes like security, marketing, performance, and design. It helps you back up your website automatically and restore it to any point with the click of a mouse button. You can easily migrate your website data to a new database, easily duplicate or transfer websites, repair broker URLs, and do a lot more.
Using the plugin, you can automatically scan for malware and other security threats on your website. This helps you keep your website secure for your site visitors. You can block spammy comments on your website too. The plugin also helps you to automate updates for plugins installed on your website.
You can monitor your website's uptime and downtime as well as get instant alerts for changes. It also provides an option to secure your website login using two-factor authentication. The plugin also has some analytical tools to help you track your website traffic and performance.
This plugin also has some design tools for your website. You can choose a professional theme for your website. Show related posts to your customers helping them to keep engaged with your content. You can also create subscriptions and contact forms on your website using this plugin.
Main features:
Tools for security, performance, marketing, and design
Migrate website data
Repair broken links
Two-factor authentication for WordPress login
Monitor site uptime/downtime
Download the Jetpack plugin for free.
6. Smart Coupons for WooCommerce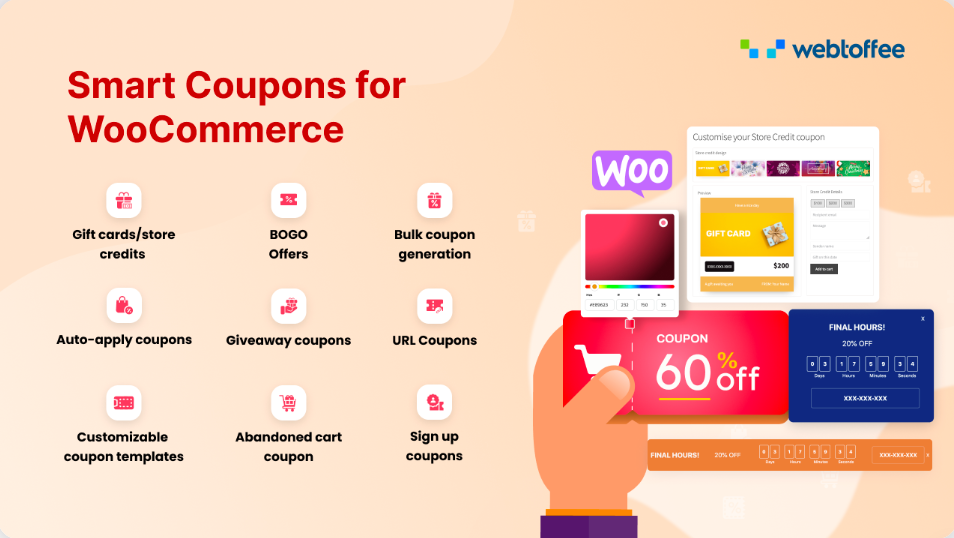 If you want to create advanced coupons on your WooCommerce store, Smart coupons is the right plugin for you. This WooCommerce coupon code plugin helps you create a wide range of coupons on your store. The plugin offers a complete coupon solution for WooCommerce websites.
Using this plugin, you can create WooCommerce BOGO coupons, cart abandonment coupons, gift cards, and other combo offers. The plugin has customizable coupon templates that allow you to create amazing gift cards and vouchers for your store site.
You can configure advanced coupon conditions for your WooCommerce store that activates the coupons only when a condition is met. The auto-apply coupon feature makes it easy for your customers to redeem the coupon. They don't need to manually enter the coupon code at the checkout, the coupon will be automatically applied when the condition is met.
You can reward your new customers with a signup coupon as a welcome gift. The plugin also allows you to create behavior-based coupons for your customers which has a greater chance for conversion.
With this plugin, you can allow your customers to purchase store credits from your store. They can either redeem it while shopping or gift it to their loved ones. This helps you build a good relationship with your customers. You can create a FOMO effect on your store with count-down sales banners.
Main features:
Create BOGO coupons
An advanced coupon rule system
Auto Apply coupons
Store credits and gift cards
Customizable coupon templates
Get Smart Coupons for the WooCommerce plugin
7. Subscriptions for WooCommerce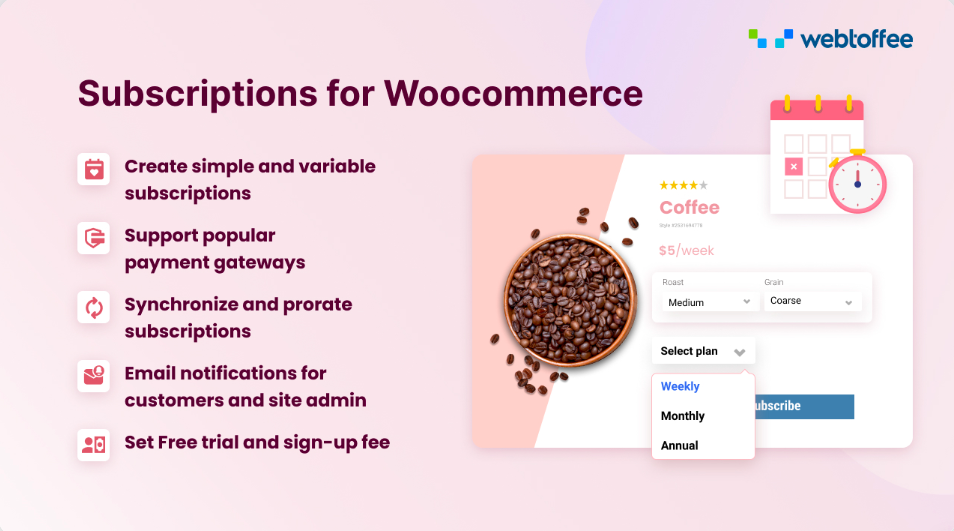 Subscription products offer a great deal for e-commerce stores. It's disappointing that WooCommerce does not allow you to sell subscription products by default. We bid adieu to your disappointment with this WooCommerce subscription plugin.
This plugin allows you to create simple and variable subscription products on your WooCommerce store. You can offer a free trial period for your customers so that they can actually try the product before subscribing. The plugin lets you charge a signup fee from your customers exclusive of the subscription amount.
You can manage the subscription intervals easily by synchronizing them to a specific date. It lets you offer discounts for product subscriptions. You can provide fixed or percentage discount coupons for every subscription renewal.
The plugin supports popular payment gateways such as Stripe and PayPal. It sends automatic emails to your customers for renewal reminders and order status updates. The plugin also offers support for multilingual websites with translations for ten languages. It is compatible with major multilingual plugins too.
Main features:
Create Simple and variable subscriptions
Send automated emails
Set free trials and sign-up fees
Stripe and PayPal support Get Subscriptions for the WooCommerce plugin.
8. MailPoet

If you are into email marketing, you need this plugin for sure. MailPoet is one of the most advanced email marketing plugins for WordPress websites. It lets you create, send and manage all your email marketing campaigns right from your WordPress dashboard.
The plugin helps you create beautiful newsletters for your marketing campaigns using various templates. You can schedule newsletters or send them right away using this plugin. The free plan supports 1000 email subscribers and if you want more, you can go for the paid plan.
Published a new article on your blog page? Inform your readers with automated emails. In fact, it will make you think that email marketing has never been as easy as it is now. The pre-built customizable email templates will save you a lot of time and effort.
You can manage all your WooCommerce transactional emails using this plugin. Connect to the MailPoet sending service for a faster and more reliable email delivery system. The plugin shows engagement statistics on your website and is GDPR-friendly too.
Main features:
MailPoet sending service
Prebuilt customizable email templates
Newsletter generator
Automated email delivery
Download the MailPoet plugin for free.
9. Sassy Social Share

The Sassy Social Share plugin enables you to share website content on Social media. Take advantage of Social media by displaying your website content. This social share plugin supports 100+ social media platforms including Facebook, Twitter, Google, Linkedin, Whatsapp, Tumblr, Pinterest, and Reddit.
The plugin allows you to share your WooCommerce products over social media. It offers a mobile responsive UI for social sharing for your WooCommerce store. You can add social share buttons on your store site. This helps in turning your customers into your social media followers.
The plugin is GDPR-friendly and is compatible with WPML and multilingual websites. You can customize the social share icons and their positions with this plugin. It also supports share counts for Twitter, Buffer, Reddit, Pinterest, Odnoklassniki, Fintel, and Vkontakte.
Main features:
100+ Social share services
Share WooCommerce products on Social media
Add social share buttons to WooCommerce
Customize social share icons
Download the Sassy Social Share plugin for free.
10. Ultimate Member

Planning to create memberships on your website? You need this plugin then. This is one of the most popular membership plugins for WordPress websites. The plugin helps you to create memberships and online communities for your website.
The process of managing user profiles, registering users, and maintaining memberships has never been this easy. This plugin supports front-end user registration, front-end user login, custom form fields, and a lot more.
It comes with a wide range of extension that provides extended functionality for memberships. The extensions will allow you to integrate Ultimate Member with many plugins including WooCommerce, Mailchimp, bbPress, etc.
Main features:
Create memberships and user registration
Integration with WooCommerce
Front-end user registration
Availability of add-ons
Download the Ultimate Member plugin for free.
11. WP Simple Pay

Payment is an important part of WooCommerce stores. With the rise of credit card frauds, it is a must that you have a secure payment system enabled on your WooCommerce store. WP Simple Pay offers just the same. It adds stripe payment to your WooCommerce store.
Stripe is one of the most popular and secure payment gateways. Using this plugin, you can accept payment for your WooCommerce store using Stripe. It activates Stripe checkout on your WooCommerce store. The PCI-compliant & SCA-ready payment forms offer secure payments for your store website.
It provides smart fraud protection & spam prevention for your website payments. The plugin lets you receive payments via Apple Pay and Google Pay using Stripe checkout. It is available in 30+ languages, 45+ countries, and 135+ currencies.
Main features:
Card validation
Apple Pay and Google Pay
PCI-compliant and SCA ready
Smart fraud protection and spam prevention
Download the WP Simple Pay plugin for free.
12. Ochatbot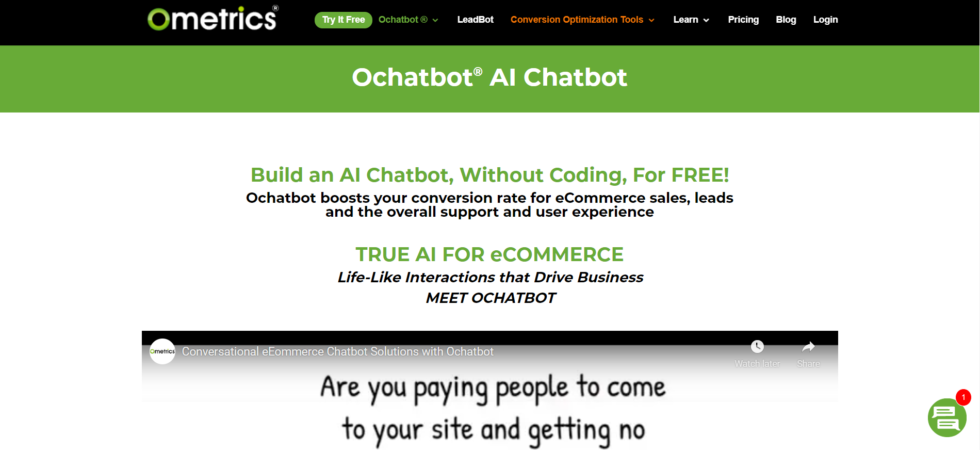 Ochatbot is true AI for eCommerce. This AI chatbot engages shoppers in a conversation to help them find products or get the support they need. Ochatbot helps online stores sell more products, reduce customer support tickets, and so much more. WooCommerce store owners can easily install the plugin which automatically connects to the product database which unlocks access to revenue-boosting features.
Their clients see a 20% – 40% lift in revenue when shoppers engage with Ochatbot as well as a 5% – 35% increase in AOV. 1 out of 4 shoppers make a purchase after engaging Ochatbot in a conversation. By quickly answering commonly asked questions Ochatbot reduces support tickets by 25% – 45%.
​
The Order Status feature helps to answer the #1 question in eCommerce – "Where is my order?!?!" allowing support teams to focus on higher-level issues. Ochatbot's Abandoned Cart feature increases sales by recovering previously abandoned carts. When a shopper returns to the site, the AI chatbot will trigger a different, personalized message prompting them to proceed with their checkout. You can also incorporate your Upsells and Cross-Sells inside the chatbot to boost AOV even higher.
​
Ochatbot is not only easy to install but easy to get started building. Choose from several eCommerce chatbot templates to get you started building in the right direction. If you want to build your chatbot yourself, there is plenty of documentation and videos inside the Help Center plus lots of tips and tricks to help you build the best chatbot for your WooCommerce store. They also offer fully managed plans where a dedicated NLP engineer performs daily AI training to make your chatbot smarter and smarter over time.
​
Main Features:
Direct shopping & add to cart
Abandoned cart recovery
Order status & tracking
Personalized product recommendations
Page targeting to engage shoppers at the right time
Download the Ochatbot plugin for free.
Conclusion
When you have the right plugins, managing an e-commerce store using WooCommerce is a lot easier. The purpose of this article is to help you with finding the best plugins for your WooCommerce store.
Some of the plugins mentioned in this article require a premium subscription for accessing full features. Choose the right plugins as per your requirements.
If you find this article to be helpful, share your feedback in the comments section.
Thanks for reading!